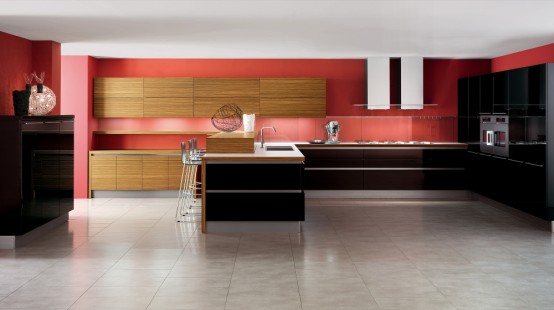 ● If your kitchen is small (or any room for that matter) use light colors: off white, beige etc. but you can accent the room with bright colors if you like to brighten up your kitchen. Dark colors will make a room look smaller than it's actual size.
● The kitchen sink, cooking stove and the refrigerator should form a work triangle where the total distance of the three stations is no more than 26 feet. The three stations should be close enough for convenience when preparing food.
● Avoid dark colored tiles on shower areas of bathrooms and kitchen counters. Although black or royal blue may look stunning, soap residue can easily be seen and is difficult to clean when hardened. Unless you have a helper to clean the bathroom right after you shower, it is better to use light colored tiles on the shower area.
● Like any other room, if your bathroom is too small use a large mirror on top of the sink or one whole wall - it will make the bathroom look bigger.
● You can also place a mirror in the kitchen. A good place is opposite the window, it will not only make the room larger but it will reflect the light and brighten the room.
● Put small indoor plants on small pots in your kitchen and bathroom. Plants gives a fresh feeling to the interior design of the kitchen and bathroom.
● Don't be limited to stainless steel sinks, drawer handles, frames and pans, use copper, chrome, wrought iron, tin, brass and platinum. They will make your kitchen or bathroom more interesting.
● If you have shelves to spare, put cookbooks, small indoor plants and other accessories to make your kitchen more appealing.
● During holidays change the look of your kitchen by putting themed table cloth and chair slipcovers to cheer up the room.
● Always make sure that there is adequate lighting on bathrooms and kitchen. Inadequate lighting makes the kitchen & bathroom feel cramped and gloomy. Aside from the general lighting fixture at the center of the room. Put task lights under the kitchen hanging cabinets. In the bathroom, put wall lights on either sides of the vanity mirror. The classic style of placing small wall lamps on both sides of the mirror gives your bathroom a charming and elegant look.
● Bathroom interior design can be fun. If your bathroom is big enough, you can decorate it with some framed pictures or artwork. Just make sure that it is not affected by moisture. Pictures or artwork makes the bathroom more interesting. Also put some scented candles, soaps and flowers. They are always a welcome add on -specially to your visitors.